The Land of Waterfalls RV Park is the ideal starting point for a wide range of adventures.
RV Rental Sites Starting at $50/NIGHT
RV Rental Sites Starting at $800/Month + Electric
All sites come with fast Wifi
*No taxes on RV Sites. Monthly guests pay their own electricity.
The Land of Waterfalls
Adventures!
Land of Waterfalls RV campground is the perfect starting point for all your hiking and mountain biking adventures. Nestled right in between Hendersonville and Brevard our campground provides the perfect jump point to Dupont State Forest and Pisgah national Forest. Some of the best hiking and mountain biking trails on the East Coast along with world renowned fly fishing brings people out to our mountain paradise from all parts of the world. Our Campground is a small boutique 12 site full hook up park with great Wi-Fi and perfect telephone service from all major carriers. It's a great place to work, play and relax at night with a nice fire at your campsite. All of our sites are gravel pads that are level and can accommodate the largest RVs on the road. From clase all the way down to small travel trailers. You will not be disappointed with the cleanliness of the park, meticulous landscaping and great neighbors all year round. We would love for you to come and stay with us and enjoy this little piece of heaven that we get to call home all year round.
Land of Waterfalls RV Park
Area Attractions & Adventures
With crystal-clear waterfalls, mile-high mountain views, deep river valleys, and meandering hiking trails, Western North Carolina is a natural outdoor paradise. We have a little something for everybody, and staying at the Land of Waterfalls RV Park puts you right in the center of the action!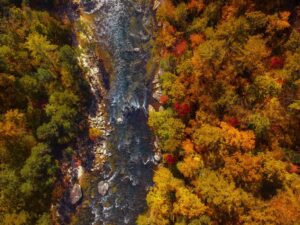 Did you know that almost 50 million Americans went fishing as… Read more
Read More
Find
The Perfect RV Rental
Our campground proudly partners with RVShare - the largest peer-to-peer RV rental marketplace. Discover Class A,B, and C motorhomes, travel trailers, and event pet-friendly camper rental! Don't want to drive? Rent a deliverable unit and forget the hassle. Check out the deliverables and more.
Betty & Flora
The Airstreams
Meet Betty and Flora. They're both Airstreams nestled in the breathtaking mountains of western North Carolina! Rented as a pair, the ladies provide a getaway for those seeking a unique and memorable vacation experience. The beautifully designed interiors feature a comfy queen-size bed, fully equipped kitchen, and Flora even has an additional full-size bed and twin bunk.